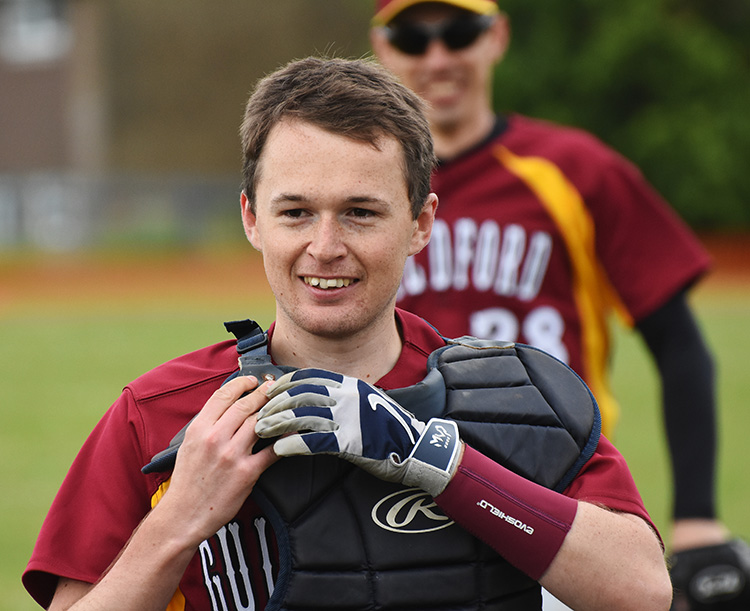 The Guildford Mavericks had their first ever walk off Grand Slam on Sunday, as Ryan Hicks drove one over the left field wall, with 2 out, in the bottom of the eighth, to extend the Mavericks lead to 10, and end the game by the slaughter rule.
In a game dogged by bad weather, with a couple of stoppages, and numerous injuries, both sides traded runs early on, with Anderson and Kettle crossing the plate twice for the visitors, whilst Minowa and Lary each plated 3 times for the Mavericks, as Brighton built an 8-6 lead.
Both teams had to go to their bullpen on a couple of occasions, with only Rob Wheeler lasting more than 4 innings on the mound. Control was difficult in the damp and cool conditions, resulting in numerous walks, and frequent bases loaded situations. Wheeler, Nathan and Ward all took advantage of coming up with the bags full, to drive in runs, and Guildford took, what looked like a healthy 17-8 lead. But that all but disappeared in a dreadful 6th inning for the home side. Both Wheeler and Hicks struggled to get the ball over the plate, as 15 batters came to the plate, and in fact Hicks never escaped the inning, making way for Simabajon, who was able to get the last two outs.
Fortunately for Guildford, they came right back, although by now, both sets of fielders were finding it difficult. and in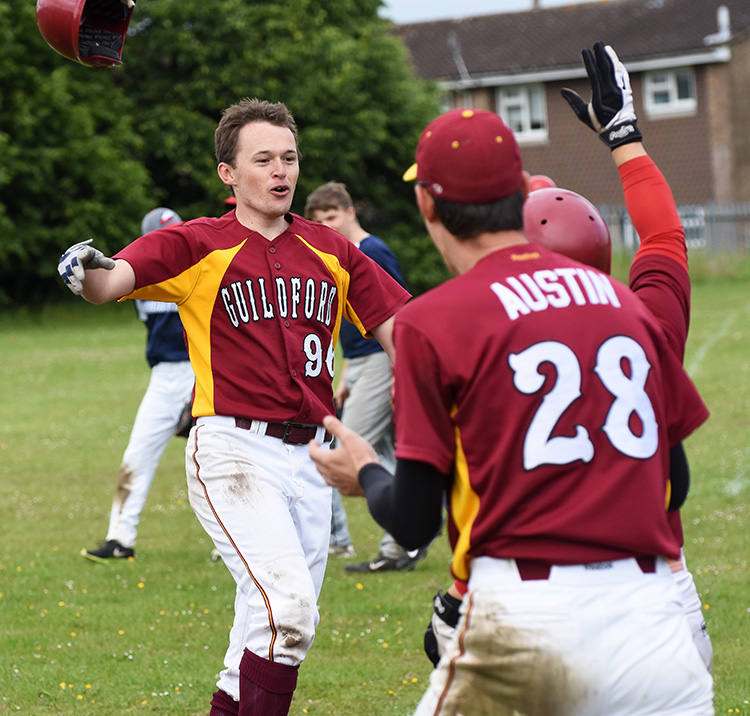 their attempts to make plays, often ended up making it worse, by throwing the ball away. But with a 4 run lead, going into the bottom the 8th, the Mavericks knew all they had to do was complete their inning and shut down the Redhawks one more time.
Every batter that came to the plate, got on base. A couple of walks and a Ward RBI gave the Mavericks a 7 run lead, then up stepped Hicks, with the bases loaded, to clear the left field fence on a 2-0 count for his second home run of the year. It took a moment to sink in, that that was the game, because at that point the slaughter rule had not been considered. But by the time Hicks had rounded the bases, there was a reception committee for him at home plate.
An historic end to very long game. Edgar Simbajon took the win on his Mavericks debut, but it will be Ryan Hicks, for whom this game will be remembered.