Club stalwart, David Jones, has won BSUK's 2017 Volunteer of the Year, announced at the recent BSUK Coaches seminar held in Birmingham.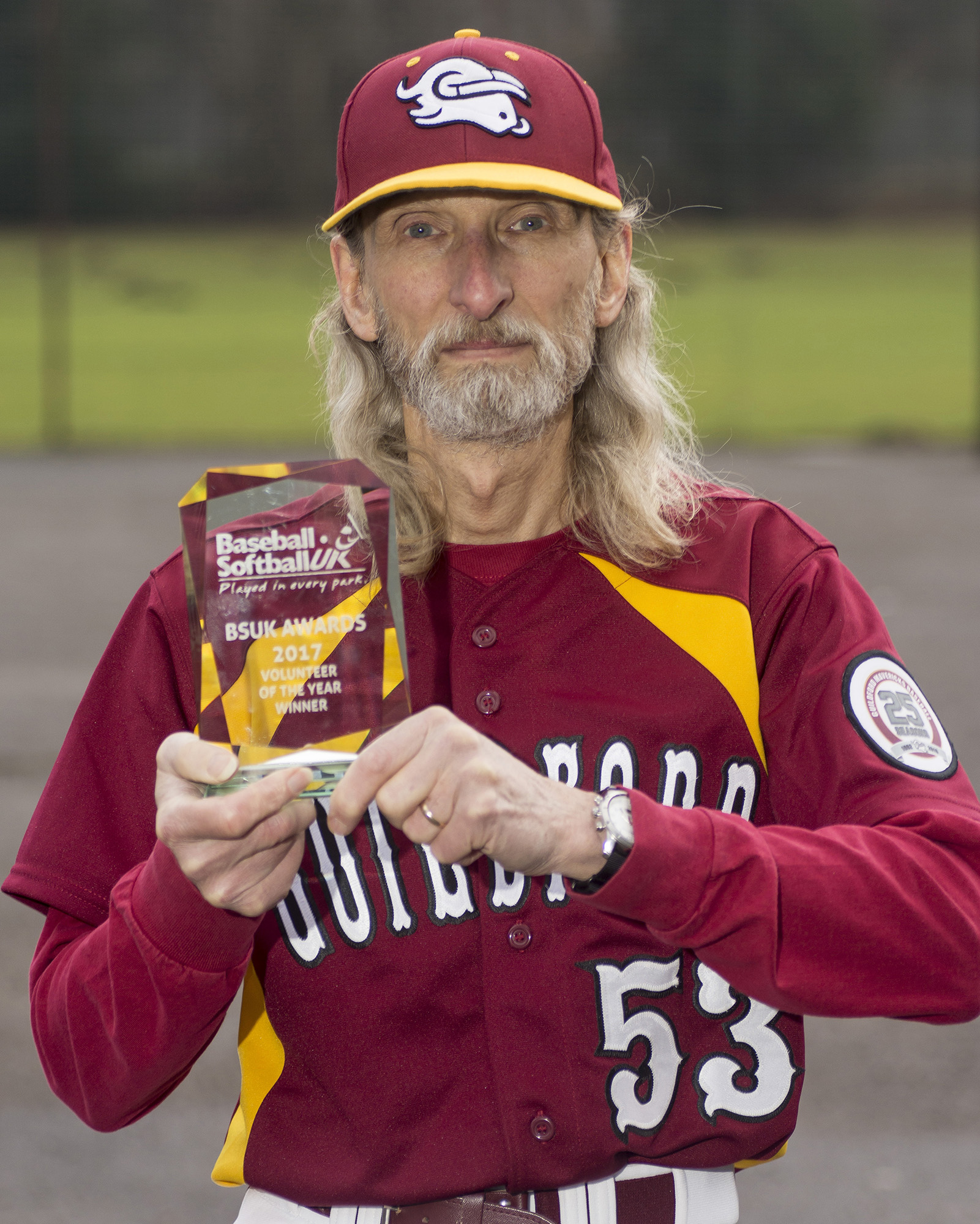 David received the award as recognition for the huge contribution he has made in his 14 years with the club. GBSC are one of the few clubs to have a full time umpire in David, but his activities are not solely limited to his officiating. In fact, he has made an even bigger contribution off the field of play.
The recent award of the Clubmark accreditation, was in large part down to the amount of hard work David put in for this. Not just ensuring procedures were in place, but that they were backed up by the correct documentation, and the club had the relevant coaches and appropriate certification. He is also the clubs' Child Protection Officer and takes this role very seriously, ensuring that they child's safety is at the centre of this, and everyone working in this environment is fully checked. He is a large part of the club's Junior set up, and can be found every Saturday throughout the summer, helping run the sessions.
As with all clubs, there is much more work carried out away from the field of play, and David ensures the club not only has the correct equipment available to each team, but that it is replaced when worn out, as well as being checked for the wear and tear, before protective equipment loses it's effectiveness. He manages all DBS checks, as well as being the focal point for First Aid across all teams.
Club GM, Michael Burdett, commented "This is great recognition, for David, and well earned. He contributes so much to this club, picking up activities that are vital in the smooth functioning of the club as whole. I don't think everyone appreciates how much has to be done off the diamond, and there is no doubt, that without David, it would make the club very much harder to run. He is one of the most detailed people I know, and that is precisely what makes him so valuable. More than that, he is someone in whom I can place the utmost trust, and I would hope, someone who I can also call my friend"
David was presented with the trophy this past weekend, after practice, and gratefully accepted, with the following comments.
"I am honoured to be recognised by the BSUK in this way for my volunteer work in baseball with our adults and juniors. I enjoy all the work we do, and am pleased to accept the award of Volunteer of the Year for our club. I would however like to share this award with, and pass on my thanks to, a number of people for their enthusiasm and help in these endeavours. Most notably, Laura, Rachel, Ben, Will, Brian, Sheila and Michael. These people in particular, helped over the past two years in many specific tasks, as did all those parents who have committed time to the running of our Junior Club. Thanks!"
David. From all the club, please accept our sincere thanks! Volunteering is the lifeline of any amateur sport, and clubs will only be as strong as the volunteers that support them. If you can, please take a leaf out of David's book, and make a contribution, if you are in a position to do so.