This page will contain historic information about the team.
In the meantime though, have you played for us in the past?…..Then we would love to hear from you again.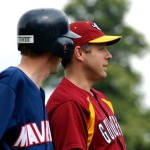 The Guildford Mavericks have been going since 1992 and before that, we were the Wokingham Millers. Over 150 players have represented us in competitive play over the years, and probably many more have come along to training.
Our aim is to stage at least one Mavericks Vets game every year, against the current Mavericks squad, and if there is sufficient interest, then some additional games as well. We may even go as far to prepare for these with one or two training sessions to loosen up those old joints.
So please contact the club if you are interested, or even if you just want to stay in touch. We are also looking to develop the history pages of the club website, so any photos (current or past), as well as any anecdotes from your times with the Mavericks, will be gratefully received.
Contact us by email here, or via out social media sites on Facebook, Instagram or Twitter