Mavericks Baseball descended on Finsbury Park at the same time the rain went away to reveal blue skies and beautiful British sunshine on Sunday. Sadly the travelling Guildford Mavericks didn't make hay, going down to an 8-11 loss to the London Musketeers.
The Mavericks top order went down one-two-three in the first inning, Musketeers pitcher forcing ground outs from all. The home field Musketeers put up only one run in the despite loading the bases and troubling Mavericks starter Tetsuro Shinkawa. The second and top of third were uneventful with the only highlight being a base hit by Mavericks ever alert catcher, Ben Stobart who, upon reaching first base safely realised that as he took a long look rounding the bag, he was level with the second baseman. With the shortstop and third baseman still on the third base side and recovering from being split by the hit, he instantly took off for second base getting there well before the bemused Musketeers infielders had noticed he was. Danny Lloyd in his first at bat for the Mavericks, knocked Stobart home for his first RBI.
The Musketeers then broke out with 9 runs in bottom of the third frame. A combination of walks and timely gap finding by the Musketeers batting line-up lead them to a 1-10 after the third inning.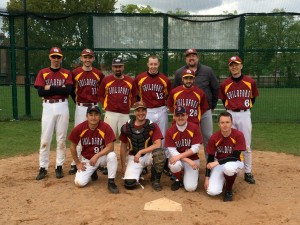 The Mavericks responded in typical defiant fashion in the fourth with Ryan Hicks working an easy walk having patiently watched the Musketeers pitcher try to refocus. Chris Ward, Scott McGrane and Ben Stobart all reached safely and plated runs to bring the Mavericks within 6.
Tetsuro Shinkawa was replaced on the hill by debutant Yasu Minowa who made quick work of the Musketeers striking out the side. Minowa would go on to allow 1 hit over 5 innings, striking out 10 Musketeers on the way.
The Mavericks threatened again in the fifth inning but only plated one run to bring the score to 6-10. Minowa shut down the Musketeers again before they brought on a relief pitcher in the sixth.
The Musketeers had scraped a run in the seventh and moving to the top of the ninth the Mavericks were down 6-11. Both debutants, Lloyd and Minowa crossed the plate to bring the Mavericks tantalisingly close but that was to be all and the record books will show an 8-11 loss.
A excellent performance by the both sides, played in excellent spirits. Next up for the Guildford Mavericks is the Home Opener at Christ's College on 17th May when we welcome the Old Timers of Enfield. See you there.