The Guildford Mavericks Juniors travelled to Bracknell on Sat 18th July, to take on their counterparts at Westmoreland Park, marking the first time these two clubs have met on the diamond at this level.
First up, were the U-10's, managed by Richard Williams, who played a mix of coach pitch and teeball. As always the youngest members of the club not only had a great time, but lead Richard to comment after that game ".. how proud I was of all of the youngsters today, not only did they play their game with skill, eventually winning 16 runs to 11, they also played the game with grace, fairness, good humour and a degree of kindness towards our opposition who were much less experienced than us. I'd also like to thank all of my coaches who helped during the game – you made my job so much easier and it is great to see so much support for these wonderful young people from their parents – you should be justly proud of them all"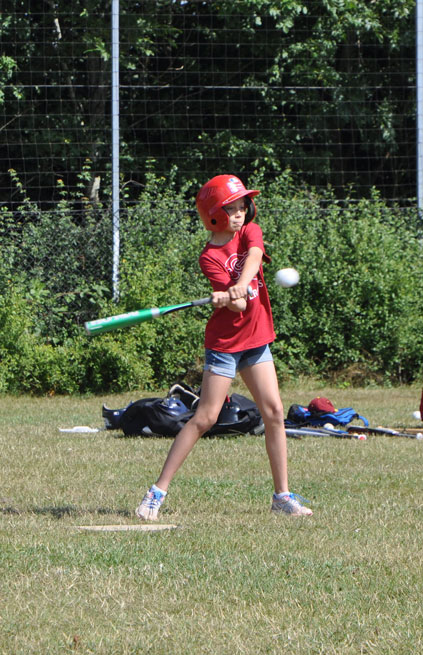 On the second diamond, the U-12's faced a slightly younger Bracknell team, and despite some good pitching by 9 yr old Alex for the home club, the Mavericks juniors ran out 5-1 winners. Jack B, Fred P and Elliot C, all contributed to shutting down the home side for the majority of the game, and Kira T drove in a couple of runs on her debut. Thanks must go to Kenny and Cassie for the help with this game.
The closest game of the day came in the U-15 game, played on the main diamond, which resulted in a 9-9 tie in 5 innings as the home team came from 5 down in the last inning, to tie the game. Nevertheless coach Ben Stobart commented that the team played a  very good game throughout, with the obvious highlights being the 3 run HR over the left field fence from Danny G and the triple play turned by the infield.
Ollie M made his pitching debut with two innings experience, before being relived by Kane L who came in and shut Bracknell down in a very good pitching performance.
Big thanks to Rachel for her assistance in managing and coaching the children, and of course to Bracknell Junior Baseball Club for their hospitality and laying on a BBQ afterwards.
Thank you to Richard for the following photos from the U-12 game