The Guildford Mavericks took on the Richmond Dukes at Flood Field on Sunday 22nd May 2016 with the Mavericks looking to bounce back after a tough loss the week before.
The Mavericks got on the board early in the 1st inning with lead off batter Chris Ward drawing a walk before stealing second and having Michael Garner knock him home to take the lead. Catcher Dayne Turbitt walked and was batted in by John Wilkins making his league debut and taking away an RBI for his trouble. Richmond made some timely hits against starting pitcher Yasu Minowa tying the score at 3 at the conclusion of the 1st inning.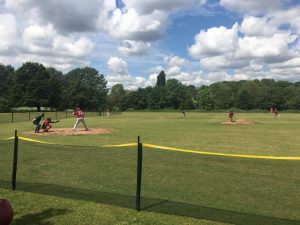 More Mavericks offence led to a 6-3 lead after the 2nd and from that point on the Mavericks would not relinquish the lead. Yasu Minowa settled in and ended up pitching a complete game allowing only 3 earned runs and striking out 17 Richmond bats. James Molloy and Byron Thorne also made impressive league debuts both getting on base.
The 5th and 6th innings were all about the Mavericks offence with the top of the order scoring 6 runs on 2 doubles, 3 singles and a base on balls.
The game was played in fantastic spirits throughout. Dukes pitcher, JP Pasterino mixing in his new favourite knuckle ball to strike out two Mavericks and catcher Alex Antonini smashing a huge RBI double. Though Mavericks pitcher Minowa would confound Dukes mainstays Patrick Livingstone and Karl Murray striking them out multiple times.
The game ended in the bottom of the 7th with the Mavericks leading 19-9. The Richmond Dukes had one out with runners on 3rd and 1st base their final batter popped the ball up to second baseman Chris Ward who took the catch and fired to 1st base to catch the runner leaning for a 4-3 double play to end the game.
The Mavericks take on the newly formed Romford Wasps this Sunday 29th at Christ's College Guildford with first pitch at 12pm.