Guildford Millers 23 – 11 Richmond Squires
The short trip to Richmond inspired many text messages asking if the game was still on due to the English summer finally making it's appearance. Double windscreen wiper speed on the drive north kept everyone on their toes and double-checking that they had packed their umbrellas.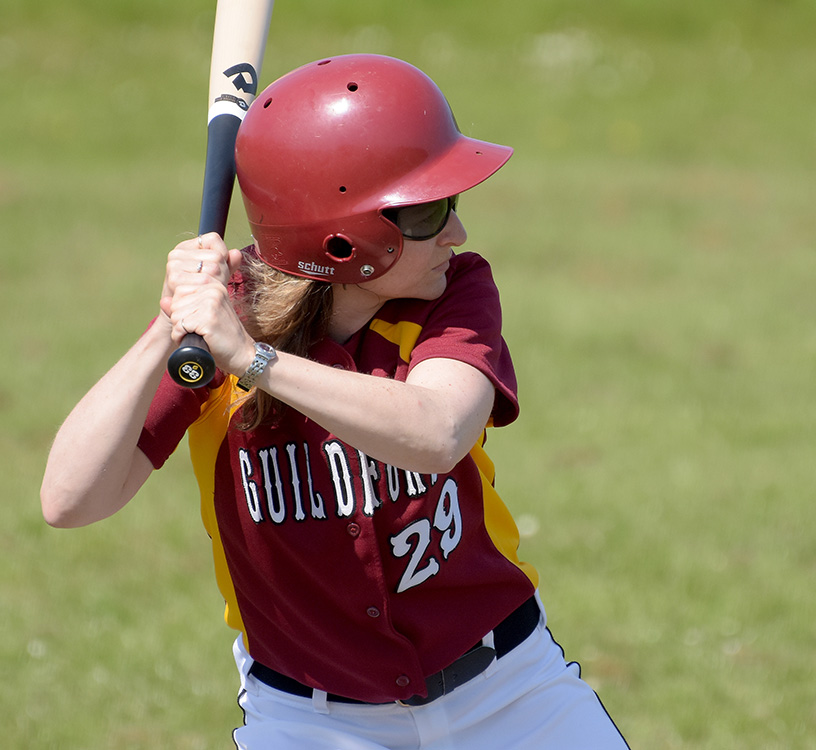 A 45 minute delay meant that the worst of the rain had passed before Richmond took the ball but the rain had only turned from hard into slightly less hard. Never-the-less, Guildford struck early and sent nine batters to the plate in the first and scored five in the first two innings without reply. Adam Gould once again was pitching following his dominant outing against the Mariners two games ago
A mammoth fourth inning saw both teams bat around with Richmond zeroing in on Gould and collecting six singles that turned into six runs. A closer game was now developing than the away side first thought with the game poised at 15-8 to the Millers.
The Richmond catcher, Spencer delivered a crushing two-out bases loaded three rbi double in the fifth to help their cause but that was to be all the runs the Squires would score in the final three innings thanks to good defence and stellar pitching from Guildford.
The Millers ladies showed fine form by earning their walks and hitting their pitches. Both Rachel Morris and Laura Bailes contributed to three hits, three walks, two rbi's and four runs between them.
Gould had a good day with the bat hitting five rbi's and scoring four times. He has shown consistent form with bat and ball this season. Despite not running the bases much during the game, first baseman Dave Austin sacrificed that by hitting four runs home and being the loudest voice on the field to record the final out by yelling 'Dave's ball' and collecting the towering pop-up from Spencer.
This incredible 2016 season continues to make the Guildford Millers 7-0. Next up, the Tonbridge Bobcats travel to Guildford next Sunday with first pitch at midday.
Line-up
Tetsuro Shinkawa                        SS
Tim Bawden                                    LF
Adam Gould                                    P
Dave Austin                                    1B
Matt Friend                                    C
Lewis Bawden                        3B
Laura Bailes                                    RF
Rachel Morris                                    2B
Christian Schmidt                         CF
Batboy
Ollie