The first-ever Guildford Workplace Softball Series (GWSS) began on 15 January 2014, with four companies from the Guildford/Woking area bidding to claim bragging rights and be crowned the inaugural champions. The Series will consist of six game nights spread across the period January to June. The first three game nights are being held at the impressive Charterhouse Sports Club in Godalming.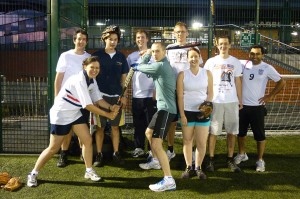 The team taking part in the GWSS are and looking to be best with the bat and glove
Active Surrey All-Stars
Explore Learning
Freedom Leisure
Surrey County Council Green Sox
Guildford Mavericks Baseball Club are proud to be playing a crucial role as facilitators for the competition, led by club Chair Michael Burdett, who is keen to see the series become a regular part of sport in the area.
Michael hopes the GWSS can be a stepping stone to a new Guildford Softball League based at the Mavericks' home ground during summer months, and said: "We are looking forward to working with Active Surrey and BSUK to get workplace softball off the ground.  Attracting more people to sport is the aim for all our organisations, and we hope this is going to provide a great opportunity to introduce people in Guildford, Woking and further afield to softball, and in particular this indoor version of the sport, which allows us to continue throughout the winter.
"Overall, this can only benefit ourselves as a club," Michael added, "and will hopefully lead to more members – not just of our adult and junior baseball teams, but also to the development of a softball section and even a league run by the club."
Lawrie Baker, Sport Operations Manager at Active Surrey and team captain of the Active Surrey All-Stars, is also keen to see local adult softball grow through the first ever GWSS.
"At Active Surrey we are really excited about this new project," Lawrie said, "and about working with local clubs like the Guildford Mavericks.  We hope that through GWSS we can help support growth in adult softball and play our part to help deliver BaseballSoftballUK's plans for the sport in Surrey."