Guildford Millers 8 -12 Tonbridge Wildcats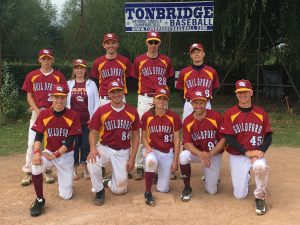 The second game of the play offs had fourth seed Millers travel to Tonbridge but this time to play the undefeated Wildcats and winners of Pool C.
In blustery conditions with the threat of rain, Tonbridge had their ace Jon Carter on the mound. He started well, limiting the Millers to one run and leaving runners on base. Rookie Adam Gould took up his familiar spot on the mound for the Millers. Quick bats and smart base running meant that the Wildcats capitalised to snatch the lead away and build on it in the early part of the game. By the end of the third inning, Tonbridge were leading 7-3.
An instant response from the Surrey side took back three of those runs helped by the bat of shortstop Tetsuro Shinkawa. Guildford made the plays to stop Tonbridge from reaching base in a quick half inning.
However, this was to be the closest the Millers would get to the Wildcats as Carter began throwing a late-breaking curveball and stepping up the strikeouts. The addition of Ben Carter behind the plate posed another threat and he tagged a runner out at the plate on a tight call.
A couple of hit batters and passed balls allowed Tonbridge to notch up more runs but testament to the Guildford spirit, the defence held to stop any blow-out innings.
Needing four runs in the ninth, Carter completed the final inning without a base runner resulting in the journey of the Millers for this season ended. It was a good game played in great spirits.
Despite the loss and not quite reaching Farnham Park, Guildford can hold their heads up high. Early in the year this inaugural season under the Millers name brought together a few people – young and old – who had baseball in common. By the end, we can say that there have been firm friendships made, lots of laughs and plenty of tales to tell.
I for one cannot wait for next season.
A thank you must also go to Tonbridge for sorting out a potentially difficult situation where the official umpire could not make it. Sean Drury stepped up and had a very good game behind the plate.